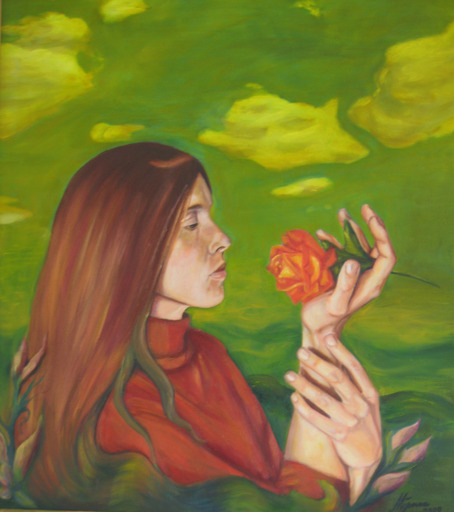 Mijanou ter Braak was born in Geldrop in 1969.
She makes large pen & ink drawings, dark and passionate.Sometimes her paintings are very colourfull and sometimes they are just like her pen & ink drawings.The main theme in her personal work is the society we live in and the people that live in that society...Dark & grim....On the other hand she enjoys drawing a nice landscape, a beautifull potrait or animal ;+)
At the age of 14 she decided to make art her life.
She went to London in 1986 and there she became a musician.
Playing the streets of London until 1988, when she moved to Amsterdam.

In 1995 she moved back to London were she became a Portrait Artist. She did hundreds of portaits in this period. She followed several life drawing courses to perfectionise her technical skills. She did also experiment with grapical techniques in this period.
Since then she had exhibitions in England (London, Hastings, Turnbridge Wells, Battle) and Belgium (Antwerp). She also was a member of The New Riviera Art Group when she was living in St leonards by Sea (1999-2001)

In 2001 she moved to Belgium and in 2002 to Holland.
She did record 3 music CD's under the artist name Anna Brag and did many live concerts.
Also did she have several exhibitions in Holland (Aardenburg, Oostburg, Groede, Beilen) and belgiums (Antwerp, Deinze) since moving there.